In case you're based in Germany I guess you have had a lot of discussions about the train drivers' strike over the last couple of weeks. While I see how that is really annoying and must have been quite unnerving for a lot of people, I must also say that strikes are actually a lot more common over here in France and just to prove my point, the RATP (which is Paris' public transport authority) staff have also been on strike about 10 days ago.
Still there are a few differences – over here most people were kind of disgruntled by the unavailability of most public transport, but things like a strike day being canceled b/c the striking workers are afraid of the angry mob customers, is something that certainly wouldn't happen over here.
The one nice thing for me in all this was that I'm lucky enough to use line 14 of the Metro to go from/to work. "Lucky" because there are two things special about that line, one: it is very fast and two: fully automatic, which means that during the RATP strike service was just the same as every other day.
And this would where the karma thing comes into play: maybe I shouldn't have laughed as loud when my colleagues told me how difficult or plain impossible it was to get to work those days, since about one week later (i.e. last weekend) the PNC (cabin crews) of AirFrance were on strike. And that actually did affect me, as we (my friend Tina and I) were going to Berlin to see some old friends. In a nutshell: the flight to Berlin was three hours late that we spent waiting at the airport, so I had basically taken off half a day for *nothing*.
So far: already not cool. But then there also was the matter of getting back to Paris, and as we were informed just before taking off to Berlin, our return flight had been canceled, and that was why we found our tickets changed to the flight that left two hours earlier the same day. But as simply losing another two hours of an otherwise very fun weekend trip would have been way too easy, that flight also was canceled and we were informed by a very friendly AirFrance staff member that our options were to take a bus to the beautiful city of Leipzig (which is about two hours away) and take a flight from there or nothing really. To make the already long story a little shorter: to our surprise, the flight from Leipzig did not get canceled, but still was about one and a half hours late. I had almost forgotten just how much fun air travel can be…
At least there was some time left for sightseeing, in this case "Schloss Charlottenburg":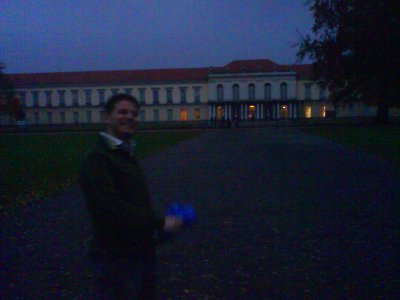 Other things I learned that weekend (to name but a few): the iPod Touch is about as nice as it is expensive, Christian's car really is fun to drive, if I were playing XBox360 games for a living I'd probably starve, if you would like to save the otters, you can do so by joining the "Otterzentrum" (which I didn't – at least not yet…) and that the "Schwarzes Café" might be the place where "we were going 10 years ago", but still is good for a beer (or two) after a late dinner…
Comments(1)