Ok, this is where I left off the last time – right before telling you about the "Fête de la musique" which was on Thursday the 21st of June. For those who are not familiar with the concept: the basic idea is "Music everywhere, i.e. there are plenty of music related events in most French cities and thus Paris in particular – this year it started around 5pm for me, with a band that was playing on the sidewalk of rue du quatre septembre, pretty close to where I work. "Playing" means that they continuously crucified about five classics (e.g. "Stand by me") for three hours, afte which I finally left the office to meet with friends a little outside Paris.
The concert we were planning on seeing was in Boulogne-Billancourt, just outside the Périphérique, where my friend Suzanne lives, and announced as "Latin-Jazz". The only catch for me was that while I'm not exactly the biggest fan of Latin music, I simply don't like Jazz (my apologies to all Jazz fans – I don't think it's bad music, but just not made for me…). Lucky for me, the other four (i.e. Suzanne, Paola, Christian and Bart) were just as hungry as I was, and so we decided on having dinner in a restaurant next to the stage instead of standing in front of it – a change of plans I could totally live with…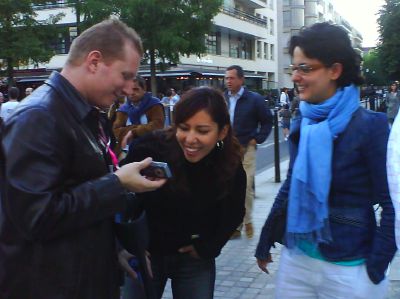 Dinner took long enough for us to not only miss the Latin-Jazz performance but also the following act, a band who were also rather loud than talented, and I guess would call their music hip-hop, the short description we finally agreed on was "Suzanne, it's official: your banlieue has been pimped".
Last but not least there was a third band: Zéphyrologie, that we finally actually got to not only hear but also see. Since they actually were quite fun to watch I got one the CDs they sold after the show – and while I must say that the music was better live, the disc still makes up for a great souvenir…