…when you're having fun and also when you're just plain busy. So much for the excuse for almost two weeks without any update in here, but there have been plenty of things going on, so here you go:
The weekend before the last saw a very good start since Christian had organized a surprise birthday party for Tina Turner (the 2nd person from the right in the picture below – and yes, that is her real name
). A very fun night all in all.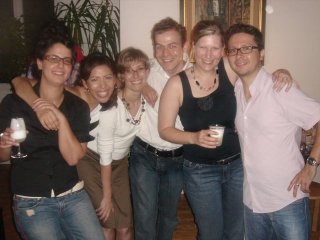 In case you're wondering about the drinks in two of the ladies' hands: the poison of choice for that evening was Pisco sour that we all got to know and love two years ago in Peru.


My friends Anna and Norbert had invited a few friends an me for dinner on their terrace the following day, one day before the elections in here in France. The food was delicious, but since I went there by motorbike I had to leave the wine to the other guys but still enjoyed the ride home afterwards, even though the Champs-Elysées were even more packed than ususal (yes, even 1 am and 2am) since the team bus of the French Rugby Team "Stade français" was there and they had just won the French championship, as I learned from my colleagues two days later.
The following work week was quite the ordinary except for a little mutual getting used to each other between my new somehow-yes-but-in-the-end-not-quite-but-almost boss (it's complicated…). Anyway – Friday night I was invited to the farewell party of my old boss Antoine, which I think was the first time since I came to France that I was the only German person at a party I went to. On the other hand there were plenty of nice French people and more than enough champagne (about everybody brought a bottle), so I had a lot of fun that night and a remarkable headache the next day. Speaking of which: the next evening Vicky had invited to a dinner at her place with friends of hers and her flat mates, which also turned out to be a very good crowd and since the headache was gone by that time my resolution "no alcohol today" was quickly forgotten about… …and judging from the mix of languages spoken that evening, I really do have to learn more Spanish.
Sunday went by pretty quickly and yet another work week week started, with mainly two remarkable things, on the one hand a visitor from the Munich offces as Laetitia was here for two days and then Tuesday which finally was Antoine's last day at Pangora before he was off to the US to start his new job. By chance I saw this ad for voyages-sncf.fr on the way home: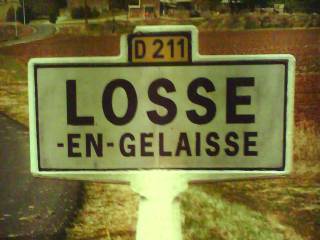 …and now guess where in the yoo-ess-and-ay Antoine is

As I'm off to bed now: more on last week, e.g. la fête de la musique, will have to wait until sometime the next couple of days…
Comments(1)