I completely forgot to mention one thing that happened this weekend: Rugby. If you're German, there's a good chance that first thing that comes to your mind is "some medium sized town in England" and then maybe on second thought also that there's a game that looks a bit like American football that – as rumor has it – is quite popular in the UK.
So far so good, but there's more to it: France is currently hosting and taking part in the Rugby world cup, which gets a lot more interesting if you know that Rugby is almost as popular as soccer in France, they even redecorated the Eiffel Tower for the occasion: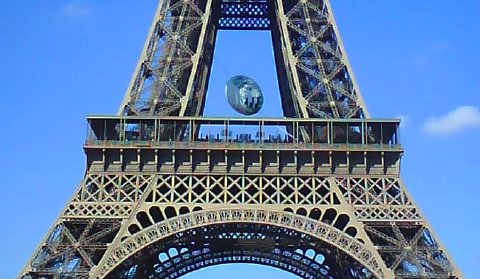 A great excuse to put yet another picture of the ET on the web…
And why am I writing about this? Well – if you translate Rugby to soccer you get the following: France is France, New Zealand (aka "The All Blacks") is Brazil (i.e. the team everybody just knows will win) and last weekend the quarter finals were played, one of them being France – New Zealand and to make the long story short: after kicking Brazil's behind in the soccer world cup the French took out another red-hot favorite, beating the All Blacks 20-18. I'm still struggling to get a grip on all the rules, but the game was great fun to watch…
…and then the semi finals are up this weekend. France vs. England – an instant classic.