Another weekend and another expo – this time I went to see the Mondial de deux roues which again took place at the trade fair center at Porte de Versailles. As most people who know me know my last motorbike got stolen and since I was not planning on staying a pedestrian for the rest of time I was quite curious to see what the alternatives are.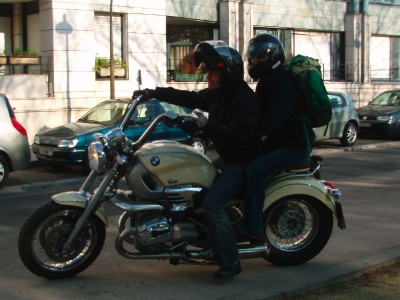 And this would officially be the last picture of my Cruiser…
This was the second time I went, the last time was the 2005 edition of the same event, but this time was somewhat different: while I was casually looking around two years ago I actually wanted to decide on what bike to buy next. The constraints were: "something I like" (i.e. about as good looking as the old one), realistically priced (i.e. expensive is ok if I think the bike is worth the money), anti-lock brakes (i.e. ABS – life is short enough), possibility to go on a tour with it (i.e. possible to attach some kind of luggage) which I thought was somewhat reasonable. Interestingly enough the number of models I found that fulfilled those criteria was a sleek 0 by the end of the day. Seeing how the model ranges and motorbikes specs have evolved I can't help but wonder why features like ridiculously powerful engines sell better than those that help help you to not become an organ donor. Did anyone say "Darwin awards"?
Second disappointment: there was no trace of Moto Guzzi, so no chance to have a look at what they may have. As for my favourite brand BMW: ever since they ceased making the Cruiser in 2004 there has not been any model I liked nearly as much. At least they had a very nicely customized R1200R at their stand that was dedicated to the Bavarian racing legend Georg "Schorsch" Meier.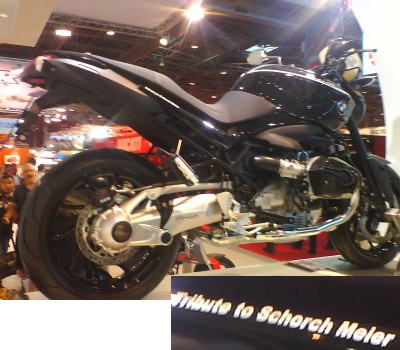 They even almost spelled his name right…
Comments(1)